How Can Acupuncture Help With Fertility?
For a variety of reasons this balance can become disturbed. Imbalance gives rise to symptoms, including infertility. Acupuncture aims to correct any imbalance, eliminating any and all symptoms that the imbalance caused. Acupuncture for fertility can boost your fertility and increase your chances of success when you are trying to conceive. Acupuncture can help with all stages in the fertility journey from conception to delivery. Some benefits of acupuncture include:
Regulate the menses and increase the blood flow to the uterus
Improve sperm count
Relieve stress
Regulate the hormones and increase ovarian response function
Reduce the side effects of hormone treatments
Increase and strengthen the immune system
Improve the success rate of IVF
Decrease the chances of miscarriage and increase the rate of live birth
Jackie & Brad's Testimonial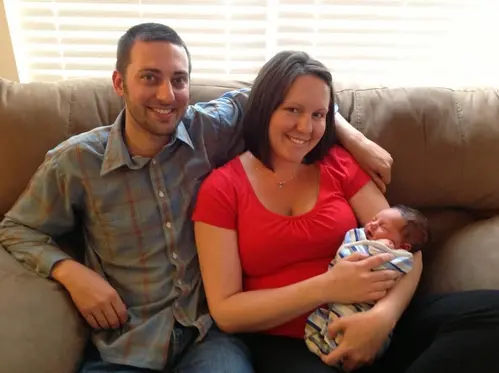 A New Life. My husband and I knew from the very beginning that we were going to struggle when trying to conceive. Our first step was taking Clomid through the recommendation of my gynecologist after trying to conceive on our own for about 10 months. The first attempt was unsuccessful, and the heartache and impatience we felt is indescribable. We wanted a family and not knowing whether that would happen for us or not was almost too much to bare. At this point, we took matters into our own hands. We'd heard about infertility acupuncture and were willing to try anything. We still kept up with our doctor, but we contacted Dr. Jones. He was very informative and explained thoroughly what would take place during acupuncture and why it should work. My husband had a lot of questions for him, and after our first visit, we both felt that we were in good hands. Dr. Jones was very knowledgeable. We visited him twice a week for about 7-8 weeks. By the end of our time with him, we both had high hopes for our future. The best news I've ever been able to deliver came just a short time later. My husband and I had our first child, a boy, born May of 2013! -Jackie
Julie's Testimonial
At 14 years old I was diagnosed with a uteran abnormality that caused me to undergo emergency surgery and one additional surgery for repair. I remember the doctor asking me if I would like to have children so that he could make the necessary adjustments and hopefully I could carry a baby one day.
For many reasons I prolonged having children, however looking back it was mostly for fear that I would never be able to get pregnant or carry a baby safely. At 30 my husband and I began seeking out doctors opinions and eventually infertility treatment. I had heard through my doctor and through several friends that I should try acupuncture to increase my chances of a successful IVF procedure. We planned to do IVF in September 2013, therefore I reached out to Dr. Jones in May to begin treatment.
I remember Dr. Jones saying to me "my goal is to help you get pregnant with out IVF". I laughed, but I continued with the treatment he suggested hoping that it would lead to a successful IVF in September. On August 24, 2013 my husband and I found out we we're expecting without any medical intervention besides acupuncture. We are now 26 weeks along and expecting our little boy in May.
I am forever grateful for Dr. Corey Jones. He is professional, sincere and always willing to go the extra mile for his patients. We would not be where we are today without him. Thank you Dr. Jones.
Fertility & Acupuncture Studies
Endometriosis Pain*
Preliminary estimates indicate that Japanese-style acupuncture may be an effective, safe, and well-tolerated adjunct therapy for endometriosis-related pelvic pain in adolescents.
http://www.jpagonline.org/article/S1083-31882900257-4/abstract

Inflammatory Obstruction of the Fallopian Tubes*
Acupuncture is also worth trying in the treatment of female infertility due to inflammatory obstruction of the fallopian tubes, where it seems to be superior to conventional therapy with intrauterine injection of gentamicin, chymotrypsin and dexamethasone. Reported by: World Health Organization in a review of controlled clinical trials in 2003
Ji P et al. [Clinical study on acupuncture treatment of infertility due to inflammatory obstruction of fallopian tube.] Chinese Acupuncture and Moxibustion, 1996, 16(9):469–470 [in Chinese].

In Vitro Fertilization (IVF)*
The pregnancy rate of IVF treatment is significantly increased, especially when acupuncture is administered on the day of embryo transfer.
http://www.fertstert.org/article/S0015-02822900361-0/abstract
The reviewers found that acupuncture given as a complement to IVF increased the odds of achieving pregnancy. The results, considered preliminary, point to a potential complementary treatment that may improve the success of IVF and the need to conduct additional clinical trials to confirm these findings.
http://www.ncbi.nlm.nih.gov/pubmed/18258932
Acupuncture improves clinical pregnancy rates and live birth rates for women receiving IVF. http://www.fertstert.org/article/S0015-02822902859-7/abstract
There is evidence of benefit when acupuncture is performed on the day of embryo transfer (ET) on the live birth rate.
http://onlinelibrary.wiley.com/doi/10.1002/14651858.CD006920.pub2/abstract
Ovulation Induction: Comparing Effectiveness of Acupuncture and Clomifene (Clomid or Serophene)*
This study found that acupuncture is more effective than clomifene for the treatment of infertility. Clomifene, trademarked as Clomid, Serophene, or Omifin, is the most widely prescribed fertility drug on the market. It is an estrogen receptor modulator that induces ovulation. In this study, after 6 months of treatment, the acupuncture group had a success rate of 76.3% and the clomifene group had a 48.1% success rate.
https://library.villanova.edu/Find/Summon/Record?id=FETCH-gale_primary_2853264201
Polycystic Ovarian Syndrome (PCOS)*
Acupuncture reduces hyperandrogenism and improves menstrual frequency in PCOS. http://www.ncbi.nlm.nih.gov/pubmed/21487075
Acupuncture normalizes levels of ovarian and adrenal sex serum levels and simultaneously increases ovulation frequency.
http://ajpendo.physiology.org/search?fulltext=julia+johansson&submit=yes&x=0&y=0
Pregnancy & Acupuncture Studies
Abnormal Fetal Positioning*
Five randomized studies evaluating the value of acupuncture in cases of breech presentation indicate that this method tended to be effective. The conclusion of the study was that acupuncture should be attempted in cases of breech presentation. http://www.ncbi.nlm.nih.gov/pubmed/19718585

Back Pain During Pregnancy*
Activation of brain areas involved in pain perception was significantly reduced or modulated under acupuncture. During acupuncture, activation in most of these pain-processing areas of the brain was significantly reduced. http://www.sciencedaily.com­ /releases/2010/11/101130100357.htm

Depression During Pregnancy*
Acupuncture protocol demonstrated symptom reduction and a response rate comparable to those observed in standard depression treatments of similar length and could be a viable treatment option for depression during pregnancy. http://www.ncbi.nlm.nih.gov/pubmed/20177281
Emotional complaints are very common in pregnancy and medication is always a risk. In this study, acupuncture seems to be an efficacious means of reducing symptoms and improving the quality of life of women with emotional complaints during pregnancy.
http://aim.bmj.com/content/25/3/65.abstract

Labor Induction*
If induction of labor is desired, such as in prolonged pregnancy, the effect of acupuncture is comparable with that of oxytocin by intravenous drip. Reported by: World Health Organization in a review of controlled clinical trials in 2003.
Lin PC et al. [Observation of the effect of acupuncture and oxytocin intravenous perfusion for expediting labour.] Chinese Acupuncture and Moxibustion, 1992, 12(6):281–283 [in Chinese].

Lactation*
Acupuncture stimulates milk secretion after childbirth and can be used to treat deficient lactation. It has been observed that acupuncture elevates the blood prolactin levels in women with deficient milk secretion after childbirth. Reported by: World Health Organization in a review of controlled clinical trials in 2003
Hu XC et al. [The influence of acupuncture on blood prolactin level in women with deficient lactation.] Shanghai Journal of Traditional Chinese Medicine, 1958, (12):557–558 [in Chinese].

Migraine*
Available studies suggest that acupuncture is at least as effective as, or possibly more effective than, prophylactic drug treatment, and has fewer adverse effects. Acupuncture should be considered a treatment option for patients willing to undergo this treatment.
http://onlinelibrary.wiley.com/doi/10.1002/14651858.CD001218.pub2/abstract

Morning Sickness*
Acupuncture is an effective treatment for women who experience nausea and dry retching in early pregnancy.
http://www.ncbi.nlm.nih.gov/pubmed/11843784

Pregnancy Complaints*
The summarized findings indicated a small but growing body of acupuncture research, with some evidence suggesting a benefit from acupuncture to treat nausea in pregnancy. Findings from the review also highlighted promising evidence for the effectiveness of acupuncture to manage back and pelvic pain, acupuncture-type interventions to induce change in breech presentation, and pain relief in labor.
http://www.ncbi.nlm.nih.gov/pubmed/19747272
cited from Indiana Reproductive Acupuncture
We work closely with Sheridan fertility specialists like Dr. Griffin with Boston IVF, Dr Gentry with Advanced Fertility Group, and Dr. Bonaventura with American Health Network to insure your IUI or IVF is as successful as possible.